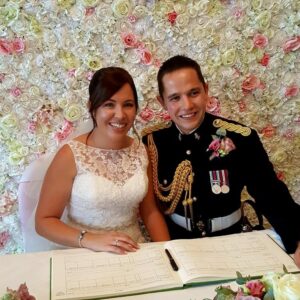 Here are the 12 Steps to Planning the perfect Wedding. 
A helpful guide for couples looking to plan the perfect wedding from choosing a theme to selecting vendors, each step of the process is broken down into manageable tasks that can help you plan your big day with ease and confidence. Whether you are starting from scratch or already have a vision in mind, our 12 Steps to Planning a Wedding will help you create the most amazing wedding experience for you and your guests. From budgeting to finding the perfect dress, these steps will help you plan a wedding that is truly unique and unforgettable.
1. Set a Date: Decide on the date and make sure your chosen venue is available.
2. Set a Budget: Establish a budget and try to stick to it.  
3. Choose a Venue: Decide on the type of venue that you want, whether it's a church, banquet hall, or outdoors.
4. Choose a Theme: Pick a theme that reflects your style and tastes.
5. Book Services: Book services such as catering, photography, DJ, etc.
6. Send Invitations: Send out your invitations at least six to eight weeks before your wedding.
7. Shop for Attire: Shop for your wedding dress and groom's suit.
8. Choose Wedding Rings: Select the rings that best reflect your personalities.
9. Choose Flowers: Select the flowers and decorations that you want to use.
10. Hire Transportation: Hire a car or limousine for your wedding day.
11. Get Insurance: Consider getting wedding insurance to protect against unforeseen events.
12. Set Up a Wedding Email: Set up an email address specifically for wedding related messages to keep everything organized.
Enjoy Your Big Day: Relax and enjoy your wedding day!