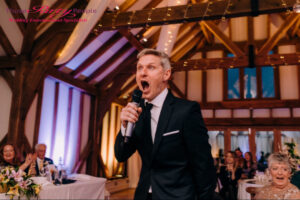 There are many reasons why having me as your DJ and a master of ceremonies is a great idea. Having someone who is experienced and knowledgeable in the wedding entertainment industry is a must when booking entertainment for your event. I understand the importance of keeping an event running smoothly and engaging the audience, and I'm more than capable of doing just that. I have an extensive background in event, wedding planning and entertainment, and I know how to keep your event running efficiently and keep your guests engaged.
I am also well-versed in public speaking and have extensive experience in hosting events and providing entertainment. I also have a great sense of humour and I'm able to keep things light hearted and fun. This ensures that your event is enjoyable for all of your guests and keeps the atmosphere positive. I'm also highly organized and detail-oriented, ensuring that all of your event details are taken care of and that everything runs smoothly and according to plan. I'm also a great listener, so I'm able to take all of your requests and ideas into account and ensure that your event is exactly as you envisioned.
Overall, having me as your master of ceremonies and wedding DJ is an excellent choice. I'm experienced and knowledgeable in the event and entertainment industry, I'm an excellent public speaker, I'm highly organized and detail-oriented, and I'm a great listener.
With my help, your wedding is sure to be a huge success!