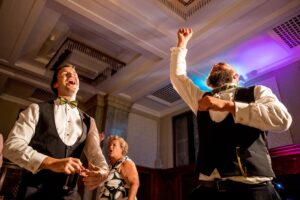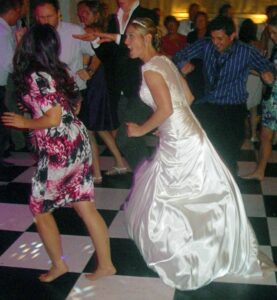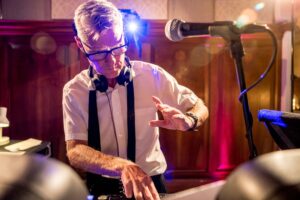 When it comes to hiring a wedding DJ, there are several important questions to ask to ensure you get the right professional for your special day. Here are some ideas to help you get started:
Is your equipment PAT tested?  Ensuring your DJ's equipment is PAT tested is important, as some venues may not allow them to work if their equipment is not compliant.
Do you have public liability insurance (PLI)?  Public liability insurance is a must-have for any professional wedding DJ. Make sure your DJ has insurance that covers at least £10,000,000 to protect you and your guests in case of any accidents, some venues may not let your DJ perform at your wedding if they don't have a minimum of £10.000.000 PLI.
Will you be my DJ or are you an agent?  Booking a reliable professional DJ is key to having a successful wedding reception. If you book through an agent, you may not know who your DJ will be on the day. Avoid this uncertainty by booking a DJ that you have met and are confident will do a great job for you.
Are you a full-time or part-time wedding and event DJ?  A full-time wedding and event DJ is more likely to provide a five-star service, as they rely on good testimonials to maintain their business reputation. On the other hand, part-time DJs may not be as committed and may not show up to weddings or send someone else to cover for them.
How long will you hold the date for my booking after my initial inquiry?  Some DJs may only hold your wedding date for a short period of time after your initial inquiry, so it's important to ask how long they will hold the date for you. At Those Party People, we hold your wedding date from the day you get in touch and are added to our online planner.
How long have you worked as a professional wedding DJ?  Experience is crucial when it comes to choosing a wedding DJ. A professional DJ with many weddings under their belt will know exactly how to entertain you and your guests and make sure your wedding reception is a night to remember.
How do you get the wedding guests on the dance floor?  The ability to read the crowd and play the right songs at the right time is the sign of a great professional wedding DJ. Ask your DJ how they get the wedding guests on the dance floor and ensure they have a good music knowledge.
Will we meet before the wedding? It's essential to meet your wedding DJ before you book their services. At Those Party People, we want to make sure we're the right fit for you and will meet you before you book our services. We'll get to know each other and go over your ideas to make sure everything is just right.
Can I make music requests?  It's important to find a wedding DJ that will accommodate your music requests. At Those Party People, we offer an online music planning system where you and your guests can request as many songs as you like.
In summary, when choosing a wedding DJ, make sure you ask these important questions to ensure you hire a reliable professional who will provide a five-star service on your special day. If you're interested in booking our services, please get in touch to arrange a meeting.