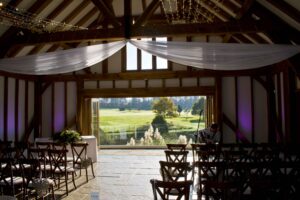 Brookfield Barns Wedding Open Day:
Be the First to See the Newly Renovated Venue.
Are you searching for the perfect wedding venue? Look no further than Brookfield Barns, a stunning venue that has just undergone major renovations. On the 15th of April, 2023, Brookfield Barns is opening its doors to the public and you are invited to come and see the new space in all its glory.
As a preferred supplier and the first DJ to be invited to see the newly renovated venue, I can tell you that this is a wedding venue you won't want to miss. The barn has been completely transformed, with modern features that blend seamlessly with its rustic charm.
Brookfield Barns is set in the heart of the West Sussex countryside, surrounded by rolling hills and picturesque views.
Brookfield Barns has a team of experienced wedding coordinators who will work with you every step of the way to create your dream wedding. They understand that every couple is unique, and will help you to tailor your wedding day to suit your individual style and tastes.
If you are interested in attending the wedding open day at Brookfield Barns, be sure to register your interest on their website, https://brookfieldbarn.co.uk/events/  or call 01403 900606. This is a fantastic opportunity to see the newly renovated venue and to meet the team who will help make your wedding day unforgettable.
See you there X